2016 didn't stop fashion from thriving on the red carpet. This year's awards season was full of show-stealing looks, from the 2016 Oscars to the more recent Critics' Choice Awards. Read on for our favourites from this year!
16. FLORENCE WELCH at the Grammys
The Florence + The Machine front woman stuck to her dreamy reputation in this pink Gucci dress with embroidered details of stars, moons, and dragonflies. Oh Florence, you're a fairy princess.
15. TATIANA MASLANY at the Emmys
Maslany picked up an Emmy this year for her role(s) on Orphan Black, and looked gorgeous and patriotic in this sleek dress. The minimal cutouts take it from just-another-red-dress to totally-chic-red-dress.
14. HAILEY BALDWIN at the iHeartRadio MMVAs
This amazing metallic gold minidress and matching heels perfectly capture the vibe of summer's biggest block party, and Baldwin's soft bangs rounded out the look. It's no surprise she won the coveted Golden Hanger Best Dressed Award!
13. GABRIELLE UNION at TIFF
This simple white dress with a stencil black floral detail might seem simplistic, but something about it on Union just killed. The off-the-shoulder design that was so popular this year looked perfect on her!
12. PRIYANKA BOSE AND PALLAVI SHARDA at TIFF
The two Lion actresses of Indian origin graced the TIFF red carpet in two very dissimilar yet striking outfits, with Sharda in a simple yet elegant midnight-blue dress and sharp white nail polish, and Bose in a traditional sari, accessorized with a bindi.
11.  GATEN MATARAZZO, CALEB MCLAUGHLIN, and MILLIE BOBBY BROWN at the Emmys
The three kid stars of hit Stranger Things rocked the Emmys red carpet in Valentino, and totally stole the show. They even performed "Uptown Funk" by Bruno Mars at the Emmys pre-show!
10. NICOLE KIDMAN at the Critics' Choice Awards
The Australian actress was nom'd for Best Supporting Actress for her role in Lion, and looked stunning in this cut-out Brandon Maxwell dress, proving that daring cuts and low necks aren't just for Hollywood's 20-somethings.
9. JANELLE MONAE at the Critics' Choice Awards
The singer-turned-actress wasn't afraid to experiment with a bold checkered print, but her hairdo took the cake. We never thought the double buns could work on a red carpet, but Monae proved us wrong. She gave a sweet shout-out to the indie designer of the dress on Instagram later, which only makes us love the dress more.
8. BELLA THORNE at the Critics' Choice Awards
Bella Thorne's naked dress was incredibly captivating—the jagged beaded side of the dress just barely covered her up, but she owned the look and remained totally confident. Teach us!
7. NAOMIE HARRIS at the Critic's Choice Awards
This Stella McCartney dress was re-purposed from a tuxedo, taking red carpet menswear looks to a whole new level. The sharp neckline and sheer chiffon skirt are so badass that we want her to be the next James Bond.
6. JOHN RIVER at the iHeartRadio MMVAs
Mississauga's very own John River brought politics to the red carpet, and we're glad he did. It takes courage to make a statement, but the rapper was not afraid—at last year's MMVAs, he wore a #BlackLivesMatter shirt, and has been known to take part in BLM protests.
5. KERRY WASHINGTON at the Emmys
What would Olivia Pope do if she was pregnant, had to dress up for TV's most important awards show, and lived in a world that is unnecessarily weird about pregnancy? Exactly what Kerry Washington did with this custom Brandon Maxwell number. Oh, and we love the cape, because Kerry Washington is totally a superhero.
4. LUPITA NYONG'O at TIFF
At this year's TIFF premiere of her movie Queen of Katwe, Nyong'o proved once and for all that she is also the queen of vivid, bold red carpet dresses. She wore a bright blue and canary House of Herrera gown with a matching silk head wrap.
3. EMILIA CLARKE at the Emmys
This nude Versace gown earned Clarke a spot on some worst-dressed lists this year, but we think it's incredible. It seems to hang on its own, and takes the naked dress trend to a way more interesting level by being both all-covering and barely-there at the same time.
2. PRIYANKA CHOPRA at the Emmys
The charming Indian starlet who currently stars on Quantico brought her unabashed flare and sense of carefree-ness to The Emmys by breaking into a twirl in her crimson Jason Wu dress. Chopra matched her lipstick to the gown, and twirled again when she presented on stage.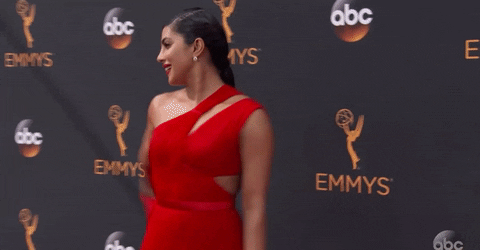 1. CLAIRE DANES at the MET Gala
The Homeland actress' sky blue ball gown might seem pretty ordinary at first, but it's actually mind-blowingly stunning—this Zac Posen creation uses fiber optics to glow in the dark. This year's gala theme was "Manus x Machina: Fashion in an Age of Technology," and Danes completely overshadowed all the other looks. Also, fun fact: the dress was so big that Danes couldn't sit in it, so the designer arranged for a private bus that she could stand on that would take her to the gala. Talk about commitment!