Every year you tell yourself you're going to be something creative for Halloween, but we all get busy. Then it's suddenly October 31, and you're wearing a last-minute cat costume for the third year in a row.
But this year, we want you to look BOO-tiful. We compiled a list of simple and sweet costumes that you can make in about half an hour,  and you won't need more than five simple materials for each one.
Food and Halloween—two of the best things ever—can go hand-in-hand this year with these adorable costume ideas. Ready? It's time to ~literally~ (trick-or) TREAT-YO-SELF.
COTTON CANDY
A sweet idea.
What you'll need
•An old dress or crop top and skirt
•Pink or blue tissue paper (or tulle if you wanna get real fancy)
•Glue
•A headband
1. Scrunch up bits of the tissue paper and glue the pieces all over your dress or crop top and skirt. The bigger the pieces of paper, the fluffier your costume will look. The tulle will create a fluffy effect as well.
2. Glue pieces of the tissue or tulle onto a headband for a cotton candy crown.
3. Go nuts with the pink makeup and glitter while you're at it!
ICE CREAM CONE
I scream, you scream, we all scream for Halloween.
What you'll need
•A white shirt
•A brown skirt
•A brown or black marker
•Multicoloured felt or pom-poms
•Glue
1. Add sprinkles to your costume by gluing pom-poms or small, thin pieces of felt onto the top part of your shirt—the part that would cover your shoulders and chest—or use different coloured markers to draw them on. (If you're using pom-poms, we recommend using hot or super glue.)
2. Use a brown or black marker to draw a crisscross waffle cone pattern on your skirt. Use a washable marker if you don't want to ruin it!
BONUS: If you have any red pom-poms, glue one onto a headband (or a bobby pin) so you have a lil cherry on top of your head.
Get creative with flavours—if you've got a light or mint green shirt laying around, use brown pom-poms/felt/markers and be a mint chocolate chip ice cream cone.
STRAWBERRY
So berry cute.
What you'll need
•An oversized red shirt
•Green felt
•White paint
•A cheap headband
•Glue
1. Use the white paint to mark dots all over your shirt to create the appearance of strawberry seeds.
2. While that dries, cut out four or five big leaf-shaped pieces of the green felt and glue them onto your headband.
You can do this with a yellow shirt and black paint to make a pineapple costume! Just cut out your felt and wear it as a tall crown instead.
CANDY HEART
Say it with love (or sass.)
What you'll need
•A pink shirt
•Pink cardstock or construction paper
•Markers
•String or tape
1. Cut out a big heart from your pink paper and add a cheeky message to it like "not tonight" or "all mine."
2. Tape the heart to your shirt, or poke two holes into the top of the heart and tie the string through it so you can wear it around your neck. It should sit on your chest and cover most of your torso.
This can be a cute group costume, too—just get your friends to match their pastel-coloured shirts to the paper they use for their own candy hearts. Maybe even try out these FORA APPROVED sayings.
POPCORN
Sorry to be corny, but this costume idea is poppin'.
What you'll need
•An old white or yellow shirt
•A red or white skirt
•Red duct tape if your skirt is white/white duct tape if your skirt is red
•Yellow and white tissue paper or pom-poms
•Glue
How to make it:
1. Glue your pom-poms or small scrunched-up pieces of tissue paper onto your shirt. (Again, use hot or super glue if you're using pom-poms, because normal white glue might not be strong enough.)
2. If you have a white skirt, tape strips of red duct tape vertically all around it to give it that stripey popcorn box look. Do the same with white duct tape if your skirt is red.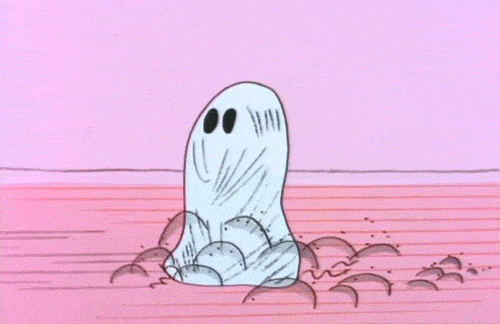 Take these costumes to the next level by carrying real versions of them around with you—well, maybe not the ice-cream—as a cute prop (and handy party snack).